SEL Curriculum Buyer's Guide
Your guide to promoting, purchasing, and implementing
the Everyday Speech SEL Curriculum
Introduction
Welcome to the Everyday Speech community! You are joining a worldwide network of over 25,000 educators using Everyday Speech to support the next generation of learners.
If you're reading this then you already know that social-emotional learning (SEL) is important. You've heard about the many ways it helps students manage emotions, strengthen relationships, improve decision-making, boost academic performance, and resolve conflicts.
Since you chose us, you also know the importance of choosing a schoolwide SEL curriculum that incorporates high-quality video modeling and is easy to implement.
This guide provides the resources and information you need to get started with the Everyday Speech SEL Curriculum.
Your next step may be to encourage your fellow school decision makers to get on board with the Everyday Speech curriculum. If that's where you're at, we suggest starting at the beginning of this guide with the Everyday Speech SEL Curriculum Overview Slide Deck. This pre-made presentation will equip you with everything you need to introduce the Everyday Speech curriculum to your fellow school decision makers.
If you're ready to buy or implement the curriculum, skip to the Purchasing or Implementation sections below.
If you have any questions, please reach out to us here.
Thanks again for selecting Everyday Speech. We are excited to support you in bringing the many benefits of SEL to your learners!
- Brittany, Cal, and the Everyday Speech Team
Pricing
We know cost matters. You shouldn't have to spend your valuable time searching for basic pricing information. Our mission is to support educators, not add stress to their lives. That's why we're committed to providing 100% transparency in our pricing upfront, no surprises.
You can purchase our SEL Curriculum in one of three ways:
Per license: If you have a small group of educators (1-10) teaching SEL to a small group of students (under 200), this option may be for you. You pay for the specific number of licenses you need. If you need to add more, you would pay for each additional license. Our individual licenses start at $399.99/license.
Site license: Site licenses are based on the number of students using the curriculum. With site licenses, you can give access to as many educators as you'd like, so long as they teach the students included in your student count. Our base site license pricing starts at 200 students. Site licenses are best for single schools, groups of schools, or entire districts.
In most situations, a site license is more cost-effective, flexible, and scalable than individual licenses.
Bundled Licenses: Are you working on both social skills and social-emotional learning? Get the best of both worlds with our Bundled License. This license is for educators who want access to both our Social Communication Curriculum (SCC) and SEL curriculum. It's a good fit for educators who work in both small group and whole-class settings, supporting Tier 1, 2, and 3 learners.
Our SCC curriculum will support your learners who need direct instruction to meet pragmatic language goals, while our SEL Curriculum provides foundational skills for all learners.
Bundled Licenses start at $599.99/license, a $200 savings over buying each curriculum individually.
Purchasing the Everyday Speech Curriculum is easy!
The first step is to generate a quote. You can do this over the phone or via self-checkout.
The phone option might be for you if you want to talk through pricing or licensing options and/or if you're looking for a more personalized checkout experience.
The self-checkout option is for you if you already know what license you want and are ready to purchase.
How to Generate Your Quote Over the Phone:

1. Schedule a time to meet with your Customer Experience (CX) Specialist. They will walk you through our pricing options and help you choose the best license for your situation.
Let your CX Specialist know about any accommodations you may need to get the quote for the license approved. This includes things like:
Do you need a specific billing date on the quote?
Do you need additional documents like a W-9, sole source letter, privacy agreement, funding paperwork, etc.?
We are happy to assist you and answer any questions.
2. After you select a license, your CX Specialist will send you a quote. If anything changes (e.g. you want to update your learner count), let us know and we will be happy to update the quote for you.
How to Generate a Quote Using Self-Checkout:
Go to our sign-up page and click "Get a Quote" under your desired curriculum option. From there, you will be prompted to enter details like the classroom setting and learner count to generate a quote.
For both quote generating options, phone and self-checkout, the next step will be to send us your purchase order and user list (which includes the names and emails of the educators who will need access to the curriculum).
How to submit your Purchase Order:
Alternatively, you may email your PO to your Customer Experience (CX) Specialist (if you have been assigned one) or mail it to:
Everyday Speech LLC
DEPT CH 17439
Palatine, IL 60055-7439, USA
Note: If your school requires you to mail your PO, please also upload it to https://everydayspeech.com/po/.

If paying with credit card, you can pay directly from your invoice. We send invoices on the 15th and 28th of each month. Please note that for orders over $3,000 we add a 3% credit card processing fee.
Once we receive your Purchase Order (or credit card payment) and user list, our team will set up your user accounts.
Our knowledgeable and friendly Customer Experience team will be available for initial and ongoing support to make sure you are getting the most out of the Everyday Speech SEL Curriculum.
Let's get started! This is where the fun begins. This section will walk you through everything you need to know to implement the Everyday Speech SEL Curriculum in your school, district, or classroom.
If you're worried about getting teacher buy-in, fitting SEL instruction into the day, or connecting your educators with quality SEL materials, we've got you covered! We designed our no-prep curriculum to make SEL instruction as user-friendly as possible.
Teacher buy-in is easy with Everyday Speech because our curriculum saves your teachers work, stress, and time! We have everything your educators could need for an SEL lesson in one easy-to-use digital platform. This includes:
Video lessons
Pre-and post-assessments
Support bundles for Tier 2 and 3 learners
Teacher training videos
Bulletin boards
Completion badges
Shareable unit summaries
and more!
Plus, our lessons are on-demand so educators can fit SEL instruction in at times that work best for them, whether they have five minutes or 50 minutes to teach.
While we do offer in-platform teacher training, our SEL curriculum was designed to be used right away. If your educators are short on time, they can get started now. Just click play!
Administrators, you will have a few more steps to follow, but have no fear we did the work for you! Download our guides below to get started.
Download our guides below to get started: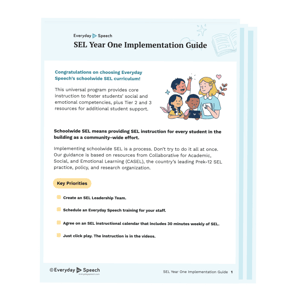 This guide provides a step-by-step overview of everything you need to know in your first year with Everyday Speech.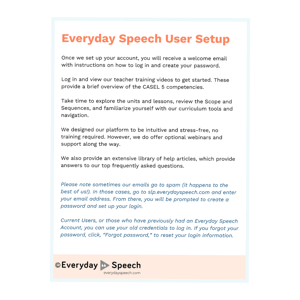 Are you looking for information to share with your users? Or are you a user looking for the next steps to set up your account? This guide is for you!
Conclusion
That's it! You're in. Get ready to see all the ways SEL can support your learners, educators, and communities!
We hope this guide has given you a better understanding of the Everyday Speech SEL Curriculum, our pricing, steps to purchase, and the implementation process.
If you have any questions, please reach out to us here.
Thank you, and we look forward to working with you!